Why do our tutors choose this product?
Our tutors set high standards to tripods and ball head. First, a good tripod must be very stable and its height should be close to eye level. Second, the tripod should be light enough to be carried around. It should be able to provide very stable support for the camera when you opened it up.
As for the ball head, it should feature a strong ball-locking for both camera and lens (Including while using portrait orientation). What is more, it has to be able to adjust the direction easily. It would be even better if it comes with 360 degree rotation and friction control.
After trying different brands and styles, our tutors chose the following items!
This tripod set is suitable for:
Users who are taller than 160cm
Outdoor Photography
Most of the gears and lenses, such as Nikon D810, Canon 5D Mk III, 70-200 f/2.8, 200-500mm f/5.6
Light-Weight Edition set includes:
Japan SLIK Pro 634 CF Carbon Fiber Tripod (Free Carrying Case)
Korea Photoclam Pro-30NS Ball Head
Korea Photoclam PC-59-UP Universal Camera Plate (Suitable for all cameras)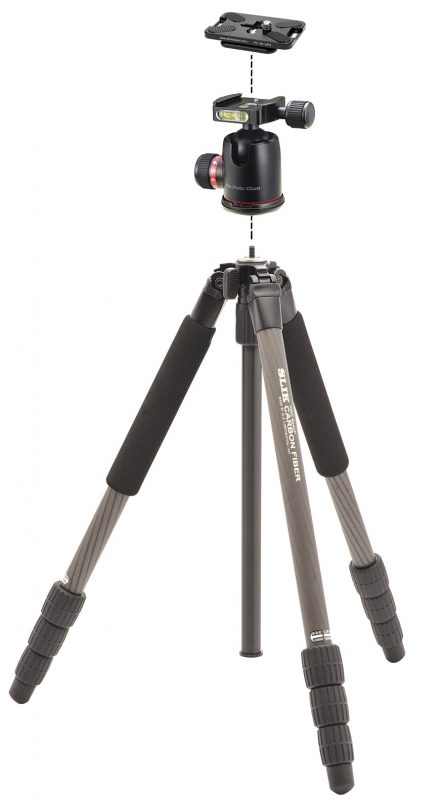 Pro-30/34NS Ball Head + PC-59-UP3 Camera Plate
Korea Famous Ball Head Brand
Country of Origin: Made in Korea
Camera Connection: 30 Kg (66lb)
Weight: 294g (0.64 lb) / 334g (0.7 lb)
Photo Clam Ball Head are equipped with the friction control, bubble level and 360 degree rotation. Photo Clam Universal Camera Plate is suitable for all cameras, is easy for you to change any other devices.
Pro-30NS: Suitable for mirrorless cameras or entry-level DSLR, such as Sony A6300, A7II, Olympus, Fujifilm, Panasonic mirrorless cameras or Canon 760D, Nikon D5300 etc
Pro-34NS: Suitable for midrange to advanced DSLR, like Canon 6D, 5D Mk III, Nikon D750, D810 etc.

PRO 634 CF Carbon Fiber Tripod
Japan Famous Tripod Brand
Folded Length: 457mm
Maximum Operating Height: 1603mm
Minumum Operating Height: 94mm
Weight: 930g
Number of Leg Sections: 4
Foam Grips and Detachable Center Column: Built-in
Material: Carbon Fiber
We choose this carbon fiber tripod because it is light weight, only 930g. Comparing with other brands which is around 1500g, SLIK tripod is our best choice. It is very suitable for travel, hiking or daily use. The operating height of SLIK tripod is very appreciable which meets to our eye level. The legs spread out independently and fully spread out brings the tripod very low when centre column is detached. After our testing, we found out it gives stable support for the camera and its CP value is super high. With Photo Clam Ball Head, we strong recommend to all students as they can be used for most of the cameras and lenses.